Our Reason For Being
Our country enjoys so many freedoms thanks to the heroes who fight to protect them in the military. Our streets are safer thanks to the heroes who patrol our neighborhoods. Our children are loved and well educated, giving our world a future, thanks to the heroes who teach them in the classroom. Our poor and hungry are cared for thanks to the heroes who give of themselves full-time to care for those in need. Our homes are protected thanks to the heroes who fight fire with their sweat and hard work. Our families are healthy thanks to the heroes who make it their mission in life. Thanks to the heroes who serve our country, our communities are a better place to live.
It is with great pleasure that we recognize them, honor them, and serve them as a small token of our sincere appreciation.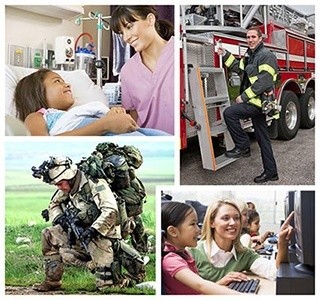 Our Mission
With a servant's heart, Hometown Heroes and those who partner with us are committed to giving back to the men and women who serve our country and our communities. We understand that saying 'Thank you' is just the beginning and that actions speak louder than words. We will recognize and honor our Heroes individually and as a community.
Save Thousands On Your Next Home!